Riley Surface World website re-launched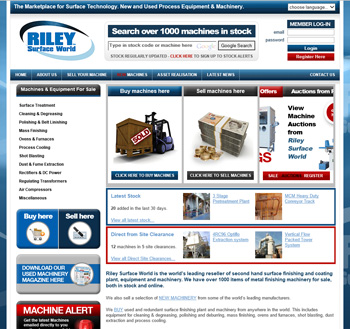 Our first website project with Riley Surface World launched over three years ago. Since then we have been making gradual, and some major, improvements to their website.
Their website is now the core component of their sales process. It advertises up-to-date stock information around the world and has helped their business grow in the UK and abroad.
We are particularly proud of the behind-the-scenes magic we have developed. The website:
- Integrates with the Sage Accounting package
- Feeds data to ACT! CRM
- Streamlines Riley's machine buying process (amongst other day-to-day business activities)
- Generates quotes
- Helps identify, segment and email customers with relevant sales information
- Automates printed catalogue production
An evolving strategy
Like all businesses reaching into new markets, Riley Surface World has adapted its business strategy. The website and online sales are now a far larger part of Riley's revenue streams than when they started working with UC4.
To recognise this we have taken the time to re-examine and assess each element of the website to ensure it reflects Riley's marketing and business strategy.
After a lot of discussion, research, planning and hard work (by UC4 and Riley's!) we are proud to have re-launched the website in time for a major event in Riley's calendar, The Surface World Exhibition at the NEC.
We'd like to thank the team at Riley's for giving us the opportunity to make a difference to their business by using the technology we are passionate about.