Google Semantic Search: The Effects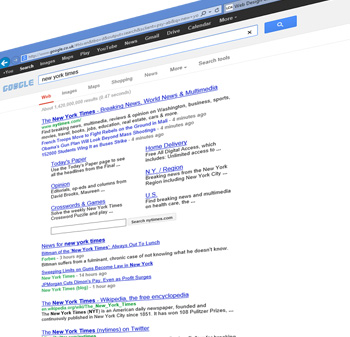 Over the coming months Google will be rolling out more changes to it's search engine algorithm including semantic search and knowledge graph.
When searching on Google now, results are based on the keywords within the search query and Google provides a best guess. Semantic search uses artificial intelligence and natural language processing to understand the meaning of the search query rather than relying on a list of keywords.
With semantic search, Google will look at the search query entered and try to derive relationships between the words in the same way a human would. For example on their own the words "New" and "York" mean very different things, but when they appear adjacent to each other on a human brain knows that this could reference the name of a state and city in the USA. Based on how the words are used within the search term, the results should be very different.
Semantic search is not a new idea at all. Back in 1996 Ask.com launched with the idea of providing answers to questions typed into a search in natural language. For example "When did England last win the world cup?" as opposed to "England win world cup".
Semantic search is only becoming a term to be aware of now thanks to Google. Google are only really acting on it now due to the release of the iPhone 4s with Siri, the voice activated search assistant. Google have responded with the future launch of Google Assistant for Android that will use semantic search and provide a rival to Siri.
To support semantic search Google are launching Knowledge Graph. A huge database of information that will provide answers to questions users may ask. Rather than providing a list of blue links, Google will provide a relevant answer matching the content of what is being searched. Meaning users may not necessarily have to leave the Google search results page to find their answers. Not only are websites going to be competing with other companies for traffic from Google, but also with Google itself.
The question to ask now is why would a user leave the familiarity of Google to go to your unknown website for answers?
Visitor numbers for many websites are unlikely to be massively affected by this new update at first as it will take time for Google to become intelligent enough for thee changes to make a big impact, but those providing useless content and attempting to fool Google will be the first ones hit and those hit hardest.
The lesson here of course being to make sure content is useful to visitors, provides answers to questions and solutions to problems. If a user likes your website and trust it they are likely to bookmark it, recommend it and keep returning directly.
Overall Semantic Search and Knowledge Graph will in theory provide a better experience for Google's users. It will however mean the approach to SEO will need to be thought through more carefully and in a more natural language method rather than relying on isolated keywords and phrases.
This article was written by Alex Blue
I have been working as a developer for UC4 since 2011. My job is to build websites that can evolve with your business. I am also responsible for making websites work well on mobile devices, ensuring your customers always have the best possible user experience.