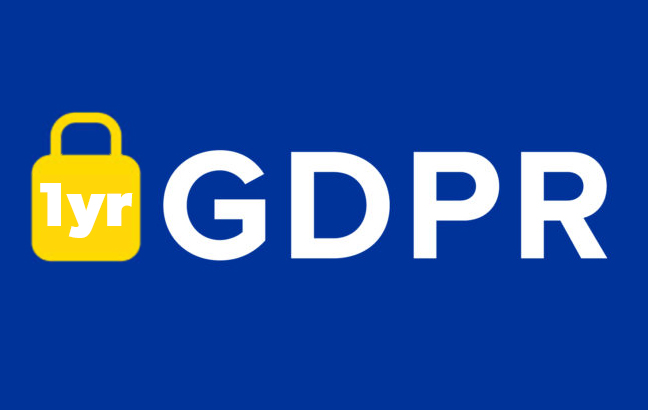 A Year On From GDPR
The EU's General Data Protection Regulation (GDPR) came into effect on the 25th May 2018. It is a regulation that requires any businesses processing data belonging to EU citizens to protect it and not misuse it. The law is set across all 28 EU member states, which means that companies have just one standard to meet within the EU.
What Has Happened In The Last 12 Months?
There have been many changes on the web since GDPR came into effect. It is now a force of habit to accept the terms of the cookie policy on almost every website you visit before getting to reading any content. Newsletter sign up processes have become more transparent and the confusion on whether you need to tick or untick the box for marketing updates seems to be being consigned to history. You may also notice you are receiving far less marketing emails in your inbox now, and those that you do receive are more relevant to you.
Of course, there have also been the fines. Regulators across 11 European countries have issued out just under £50 million in GDPR fines, with the largest fine being issued out in January 2019 to Google, where they were hit with an £44 million GDPR fine over personalised ads. The French data regulator who submitted the fine to Google stated that the people were "not sufficiently informed" about how Google was collecting their data through advertising. The regulator also stated that Google had not obtained clear consent to process the user's data as it was too difficult for those users to find the "essential information" as this was spread across multiple documents and pages.
Future Of GDPR?
As users are becoming more aware of what happens to their data and the rights they have over its use and storage, many high-profile companies are still adapting their products in response.
A few years ago Facebook announced a new messaging service called Secret Conversations that allows users to have conversations with end-to-end encryption added to the messages sent, making it theoretically impossible for them to be intercepted. Facebook is looking at doing the same for all its messaging services and linking its chat systems up between Messenger, Instagram and WhatsApp; which will allow all three services to communicate between each other.
During a Facebook F8 developer conference earlier this year, CEO of Facebook Mark Zuckerberg gave a speech stating that "The future is private" and that he has a clear idea of where he wants his company and products to go in the future. Facebook is currently not being shown in the best light after various scandals relating to data privacy and security over the last few years. Zuckerberg also mentioned this himself at the F8 conference, where he said, "We don't exactly have the strongest reputation on privacy right now, to put it lightly." However, he did say that he is "committed to doing this well and starting a new chapter for our product".
On the 29th April 2019 Amazon unveiled a new product called 'Amazon Echo Show 5' and also announced a new security feature for its popular virtual personal assistant named Alexa. A new command has been added which allows users to "delete what I just said" or "delete everything I said today". This new privacy feature has most likely been added on the back off some customers thinking that Amazon is listening to all their conversations, even though Amazon have come out and said that it doesn't record everything it hears and all conversations it does are protected on encrypted servers. With Amazon giving their user the simple command of deleting the conversations it has had with Alexa, it will allow them to have more control on how Amazon treats their personal data.
What We Have Done For Our Customers
Here at UC4 we take GDPR and user data very seriously. We have worked with our customers to make sure they have all the tools they need to keep their websites GDPR compliant. We also try to keep our knowledge of data protection as up to date as possible so we can treat our customers' data with the care and respect it deserves.
Address
UC4
The Priory
Canwell
Sutton Coldfield
West Midlands
B75 5SH
Registered in England & Wales no. 3795882
VAT no. 785335108